for Dental Professionals
DEPENDABLE RESULTS, LIMITS COMPLICATIONS, HIGHER PATIENT SATISFACTION
The Root Tip Remover provides an option for all doctors to remove broken off root tips without causing extensive damage to the surrounding hard and soft tissues!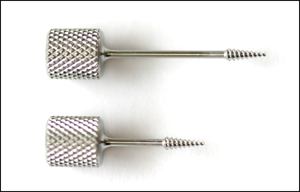 The The Root Tip Remover gives you control even when a tooth is decayed past the gumline or the bone-line. This oral surgery instrument will allow the dentist to pass through the soft decay/caries, and will allow access to the root tip without risking the need for more invasive surgeries that can lead to a number of complications. The fine radial point will allow any dentist to insert the fine point into the finest root canal. Once the instrument is screwed/moved down into the dentin and anchored, it allows the dentist to have enough leverage to sever the periodontal ligament with the pulpal nerve tissue as the dentist easily extracts the root tip with no risk of complications or more invasive surgeries. This would be virtually impossible with any other dental instrument.
The Root Tip Remover
Quickly removes root tips without causing trauma to the surrounding hard and soft tissues. This allows for faster healing time and a more predictable end result.
Is critical to bone management. It keeps the bone intact in the tooth socket while you control implant integration and ridge preservation.